Who Has Earned the Financial Security Advocate Badge?
Advisors Committed to Financial Security for All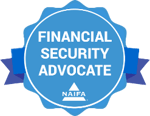 Financial Security Advocates have the training, knowledge, and skills to fully participate in the political process, exert their grassroots influence, and amplify NAIFA's advocacy message on behalf of their businesses, colleagues, clients, and communities. They truly make a difference. You, too, can be a part of something big and join the ranks of Financial Security Advocates.